The ancients  assumed that the body was a reflection of the Spirit. Rather than the body having and energy, the universal energetic of the self develops a body. In this context there is not question as to whether we are eternally energetic in nature. Thus, the practice of Qigong supports us in re-associating with the eternal aspect of ourselves that is irrevocably well not matter what the body is experiencing — an aspect of the self that does not get sick and does not die.
Our best Qigong moments are when the separation between the local self and the eternal self is eliminated. To reach this experience the Qigong solution is to rest in the present moment during the practice. All of the Healer Within Practices allow for this to occur.

Lao Zi – 2500 years ago, #10 – "Cultivate body and breath to sustain the physical and emotional flexibility of a new born with no cares."
from the Daodejing – Tao Te Ching

Zhuang Zi – 2400 years ago – "Unify your attention. Rather than listen with the ear, listen with the heart. Rather than listen with the heart, listen with the Qi."
from the Collected Writings of Zhuang Zi – Chuang Tzu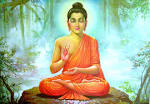 Buddha – 2500 years ago – "Peace is inherent within. Seek it not without."
from the Sutras of Shakyamuni Buddha

Jesus — 2000 years ago – according to Matthew – "When your insight is unified – you see with a single eye – your body will be filled with light."
from the Gospel of Matthew

Patanjali — 2000 years ago – "The forms and breaths of Yoga not only enhance the function of the body, but also open the portal to freedom from illusion."
from the Yoga Sutras
BASED ON ANCIENT SOURCES — BU ZHENG QIGONG
IS THE MOST ACCESSIBLE FORM OF MEDICAL QIGONG
Translated as Vitality Enhancement Qigong, Bu Zheng is a contemporary form of Qigong with ancient roots that is especially focused on healing medical challenges as well as maximizing and sustaining well-being. The roots of these practices actually go beyond history. Anthropologists claim that humans have acted like humans for as much as 3 million years. Scholars project that Qigong like practices were developed by tribes members and Shamans over 100,000 years ago.

Bu Zheng is rooted in this rich history of ancient tribal origins.

Bu means — make strong, enhance
Zheng means — the coherent interrelated functions and systems of the whole self.

Bu Zheng means maximize the integrated, interactive, holistic version of the self — the whole person, the whole self – at all levels, Spirit–Mind–Body.
{ 0 comments }