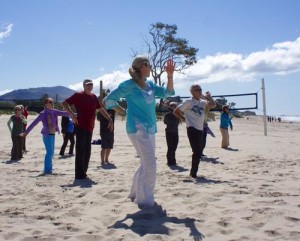 Would you like to become more energized, balanced and radiantly healthy?
Are you inspired to help others feel more energized, balanced, and radiantly healthy?
When the mind is at peace, the body can better heal itself. Become a Certified Tai Chi Easy™ Practice Leader and learn the secrets and principles of the moving meditation Tai Chi at a beautiful training retreat in Santa Barbara, California!
The Tai Chi Easy™ program consists of 5 Medical Qigong practices from The Healer Within and 5 movements from Yang Tai Chi plus a warm up and a cool down, self-applied massage, breath exercises, and meditation. Tai Chi Easy™ is a carefully developed method and approach to Tai Chi and Qi (Chi) Cultivation based on revered traditional principles and a wide array of benefits.
We have trained absolute beginners as well as experienced Tai Chi Teachers! You can learn this simple practice and become certified to lead others in only 3 days! Tai Chi Easy™ is an evidence based and cost effective health intervention that works to accelerate healing, reduce stress, and support disease prevention.
Listen to podcast here: Tai-Chi-Easy-20151204-JessicaKolbe-GaylHubatch